Milano Flamenco Festival | Marco Flores con David Lagos e Alfredo Lagos / Rayuela
Concluded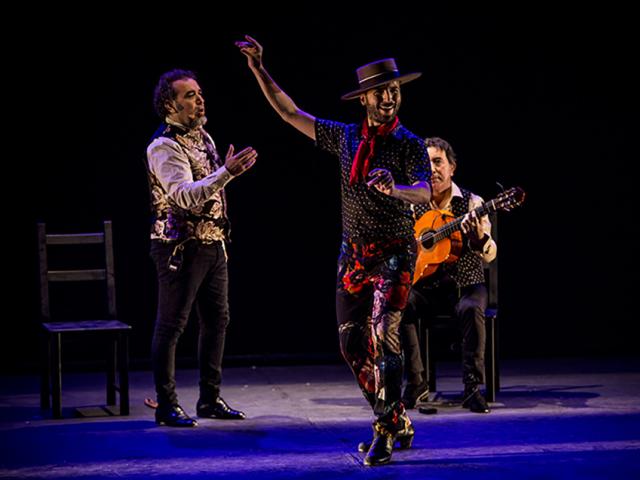 ©Foto di Javier Fergo - Foto di Javier Fergo
Marco Flores, accompanied by David Lagos and Alfredo Lagos, celebrates twenty years of career with his latest work, Rayuela, inspired by the celebrated novel by Julio Cortázar. A look back over his professional and artistic career, and a return to the past with a new awareness of the passage of time.
Duration: 90 minutes without interval
Duration: 90 minutes without interval
Credits
Marco Flores with David Lagos and Alfredo Lagos
Rayuela
choreography and dance Marco Flores
original music and guitar Alfredo Lagos
vocals David Lagos
directed and written by Francisco López
choreography consultant and guest choreographer Olga Pericet
Flamenco and literature: from idea to dance with Marco Flores, examining the creative process for Rayuela, based on the novel of the same name by Julio Cortázar
organisation and artistic direction Maria Rosaria Mottola for Punto Flamenco
www.puntoflamenco.it; info@puntoflamenco.it
with the support of the Ministerio de Cultura y Deporte de España - Instituto Nacional de las Artes Escénicas y la Música (INAEM), Instituto Cervantes and in collaboration with the Spanish Cultural Organisation, Oficina Cultural Embajada de España
Italian premiere
Tickets
Stalls full price € 35
Balcony full price € 30
Flamenco Card
Subscription to Milano Flamenco Festival
Stalls € 84 
Balcony € 69
Click here for information on how and where to purchase 
For artistic reasons, access to the auditorium is not permitted once the performance has started.
You may take your seat during any intervals.
Purchased tickets cannot be cancelled or substituted or be used for dates or times which differ from those indicated.
Safety measures for access to performances
In order to prevent queues and crowding, we invite spectators to arrive at the venue for the show in 

advance

 of the scheduled start time.
For access 

face masks

 must be worn (or an alternative form of protection approved by the Lombardy Region. Non-medical masks are prohibited). The face mask must be worn for the entire duration of the play. "Courtesy" face masks will be available for spectators who do not have suitable protection. 

Hands must be sanitised 

via the dedicated dispensers.
Personnel at the entrance will have dedicated thermal scanners for 

measuring temperature

. Spectators with a body temperature equal to or higher than 37.5°C will not be granted access.
seats assigned guarantee respect for regulations regarding interpersonal 

distancing.

Spectators are kindly requested to 

follow the instructions

 provided by the ushers as well as via audio and visual indications in the venue.
Groups
For information on tickets and the use of vouchers for organised groups, please contact the Office for Public Promotion and Cultural Proposals
tel. +39 02.72.333.216
email promozione.pubblico@piccoloteatromilano.it