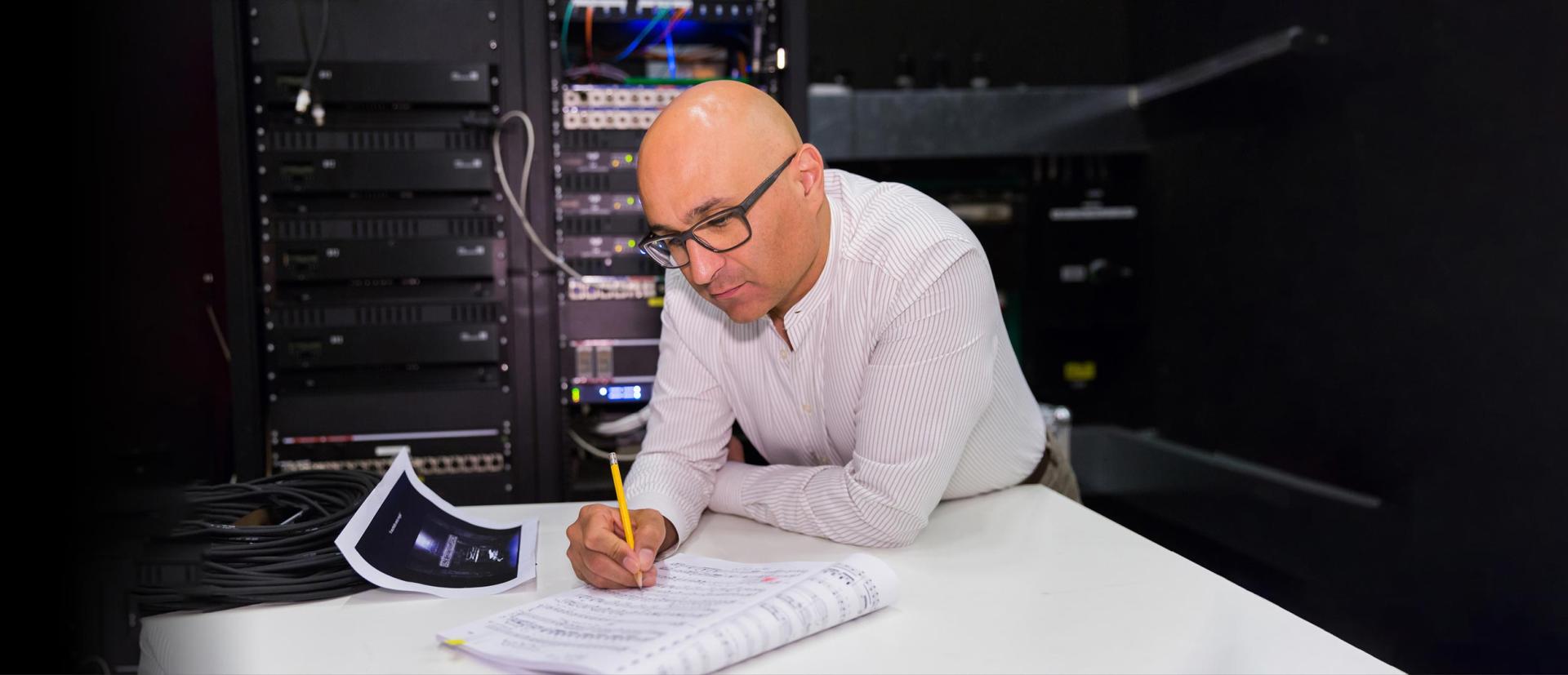 Born in 1973, Carmelo Rifici graduated with a degree in Modern Literature before earning a diploma in acting and directing from the Theatre School of the Teatro Stabile di Torino. He then began a long working relationship with Luca Ronconi and was initially involved in productions connected to the Turin Olympics 2006, later as assistant director at the Piccolo (2006-2012).

In 2001 he directed Cinque capitoli per una condanna, based on a novella by Victor Hugo for the Teatro Stabile di Torino. In 2002 in Milan he staged Anton Chekhov's Three Sisters for the Teatro Verdi and Teatro della Contraddizione. From 2003 to 2006 he was resident director of the Teatro Litta di Milano where he directed The Turn of the Screw by Henry James and La tardi ravveduta by Giuseppe Giacosa as well as August Strindberg's Miss Julie. In 2004 he directed The Just Assassins by Albert Camus for the Teatro di Sinalunga. In 2006 he was director of Long Day's Journey into Night by Eugene O'Neill for the Teatro Filodrammatici di Milano. In 2007 he took part in the San Miniato Theatre Festival with L'ennemi by Julien Green. In 2009 he was back in San Miniato with Elena Bono's La testa del profeta and then in 2011 with Anima Errante by Roberto Cavosi. In 2008 he presented Chie-Chan e io based on the novel by Banana Yoshimoto and adapted by Giorgio Amitrano for the Napoli Teatro Festival. That same year he directed A Night in May by Abraham Yehoshua for the Teatro Due di Parma. In 2009 he staged two works: I pretendenti by Jean-Luc Lagarce and Il gatto con gli stivali, ovvero una recita continuamente interrotta, by Tieck/Tessitore, both for the Piccolo. In 2010 he put on Details by Lars Norén for the Piccolo, Pocket Shakespeare for the Teatro Due di Parma and Euripides' Phaedra for the Istituto del Dramma Antico di Siracusa. For the 2010/11 season he staged the following: Buio by Sonia Antinori for the Teatro Due di Parma, Angela Dematté's Avevo un bel pallone rosso for the Stabile di Bolzano, Nathan the Wise by Lessing for the Piccolo and Medea by Luigi Cherubini for the Ponchielli di Cremona. For the 2011/12 season he directed Elektra by Hugo von Hofmannsthal for the Teatro Stabile del Veneto and I puritani by Bellini for the Circuito Lirico Lombardo. In 2012 he put on Shakespeare's Julius Caesar for the Piccolo and The White Rose by Lillian Groag for the Stabile di Bolzano.

He also directed L'officina by Angela Dematté for the Stabile di Bolzano (2013), Despoiled Shore Medea Material Landscape with Argonauts by Heiner Müller (for Proxima Res, 2012), Chi resta by Cavosi/Dematté/Gabrielli/Rifici (2013). At the Piccolo, in January 2014, he staged the Italian premiere of Visita al padre, by German writer Roland Schimmelpfennig.

He has taught the Advanced Course in acting and textual analysis for the actors of the IUAV di Venezia. He has been active in teaching Advanced Courses at the Centro Teatrale di Santa Cristina directed by Luca Ronconi, at the Scuola del Teatro Stabile di Torino, at the Accademia dei Filodrammatici di Milano.

Since 2014 Rifici has been artistic director of LuganoInScena where he directed Anton Chekhov's The Seagull (2015), Euripides' Ifigenia, liberata, Ariel Dorfman's Purgatorio (2016/17 season) and in 2018 another production of Avevo un bel pallone rosso, performances which earned him the praise of both public and critics alike as well as a long tour. That same year he directed The Barber of Seville which marked his operatic debut at the LAC. He directed the Italian language premiere of I Cenci with music and libretto by Giorgio Battistelli and conducted by Francesco Bossaglia (May 2019); in 2020 he staged repeats of I Cenci at the Biennale Musica di Venezia and at the Festival Aperto di Reggio Emilia. In 2019 he was director of Puccini's Gianni Schicchi and Ravel's L'heure espagnole at the Teatro Grande di Brescia.

In January 2020 he was appointed artistic director of LAC Lugano Arte e Cultura where he wrote and directed Macbeth, le cose nascoste, a work he co-authored with Angela Dematté which premiered at the LAC in January 2020. Together with Paola Tripoli he created Lingua Madre, capsule per il futuro. In 2022 he adapted and directed Liasons Dangereuses based on the novel by Pierre-Ambroise-Francoise Choderlos Delaclos. In September of that year he directed Giuseppe Verdi's La traviata conducted by Markus Poschner. In November 2022, together with Andrea De Rosa he directed Processo Galileo, written by Angela Dematté and Fabrizio Sinisi.

In 2009 in Milan he founded the school Proxima Res which in a few years established itself as one of Lombardy's most recognized theatrical associations in terms of artistic projects. Since 2015 he has been director of the Scuola di Teatro Luca Ronconi at the Piccolo and out of which emerged the performance Uomini e no by Michele Santeramo, based on the novel by Elio Vittorini and which was sold out for two seasons. In 2021 he directed Arthur Schnitzler's Dream Story in its stage adaptation by Riccardo Favaro. The play premiered at the Piccolo in July with repeat performances there throughout the autumn. 

In 2005 Rifici was awarded the Premio della Critica as emerging director. In 2009 he received the Premio Eti Olimpici del Teatro as director of the year and the Premio della Critica, the Golden Graal and a nomination for the Premi Ubu, again as director of the year. In 2013 he again won the Golden Graal and the Teatri del Sacro Competition. In 2015 he won the Premio Franco Enriquez for his work as artistic director of the LAC, which he won again in 2017 for directing Ifigenia, liberata. Purgatorio was chosen by le Giornate Svizzere del Teatro as one of the 7 performances of the year. In 2019 he won the "I numeri UNO" prize, organized by the Camera di Commercio Italiana per la Svizzera (CCIS) and aimed at recognizing persons who have particularly distinguished themselves in the area of relations between Italy and Switzerland. In July 2021 he was honored with the title Maestro by the Premio Radicondoli per il Teatro. In the autumn of that same year he received the Premio Hystrio Digital Stage and the Premio Ubu, Progetti Speciale, for Lingua Madre, capsule per il futuro.