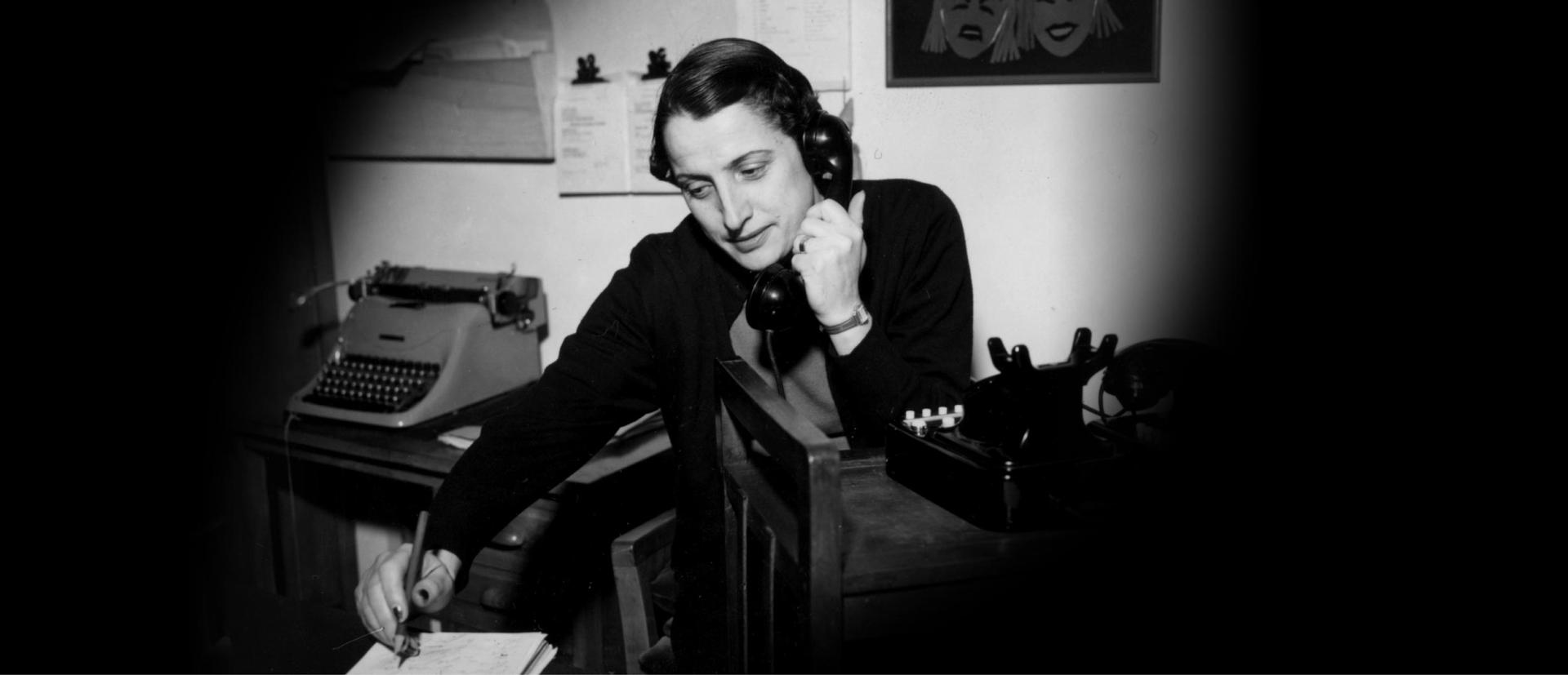 Nina Vinchi lovingly and passionately dedicated her life to the theatre founded in 1947 by her husband, Paolo Grassi, together with Giorgio Strehler.
Nina Vinchi, la "signora del Piccolo" (the "lady of the Piccolo"), played a fundamental role in the life of the theatre, increasingly taking on the weight of the productive and administrative organisation of the Piccolo Teatro, up to the day of her resignation in 1993.
Whilst holding this important position, Nina Vinchi (the wife of Paolo Grassi, from 1978 until his death in 1981) always worked to combine the aims of art with those of sound financial management.
Friend and travel companion to the artists, but also an adamant "guardian" of public money, Nina Vinchi was a permanent part of the "human landscape" of Via Rovello, despite her preference of remaining low profile, behind the scenes, leaving the limelight to Grassi and Strehler. She nonetheless always completely supported their choices, in her role as a precious and respected advisor, guaranteeing balance and professionalism. Over the course of her life, Nina Vinchi Grassi received numerous prizes and honours: the silver medal of the City of Milan in 1963, the "Premio Renato Simoni" for loyalty to the theatre in 1975, the nomination as "Grand'Ufficiale al Merito della Repubblica" (Grand Officer of the Order of Merit of the Republic) in 1981, the "Targa Mario Bonfantini" for cultural and artistic merits in 1982, the appointment as Officer of the "Ordre des Arts et des Lettres" (Order of Arts and Letters) in 1985, the gold medal for the "premio della riconoscenza" (acknowledgement award) of the Province of Milan in 1987 and the "Premio Maratea" for a life dedicated to the theatre in 1994. She died on the 15th of June 2009.